Issue Focus
A Profile of Dr. Phyllis A. Wallace, 1922-1993, One of the Founding Board Members of MDRC
She applied the skills of a well-trained scholar activist to some of the most important and intractable problems of our time, especially the problems of alleviating poverty and the damage of racial and sexual discrimination. — Alice Rivlin, Former Director of the Office of Management and Budget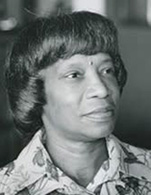 One of the six original members of MDRC's Board of Directors in 1974, Dr. Phyllis A. Wallace was an economist whose research and policy work addressed the intersection of race, gender, and class in the United States. Dr. Wallace went on to serve on the MDRC Board of Directors for ten years. She was a scholar, activist, author, and the first Black woman to be named a tenured professor at the Sloan School of Management at MIT.
Dr. Wallace was born in 1922 in Baltimore, MD. She attended Frederick Douglass High School, a rigorous school that was racially segregated, and graduated first in her class. Other illustrious alumni of her high school included Thurgood Marshall and Cab Calloway. The University of Maryland did not accept Black students at the time, so she moved to New York City and received a bachelor's in economics in 1943 from New York University. In 1948, she was the first woman to earn a PhD in economics from Yale.
After receiving her doctorate, Dr. Wallace joined the National Bureau of Economic Research as an economist/statistician, while also teaching part time at the College of the City of New York. She served on the faculty of Atlanta University from 1953 to 1957, when she became a senior economist for the US government (likely in an intelligence agency), specializing in Soviet economic studies. She was chief of technical studies at the Equal Employment Opportunity Commission's Office of Research from 1966 to 1969 and vice president of research for the Metropolitan Applied Research Center from 1969 to 1972.
In 1974, she joined the Sloan School of Management at MIT as the first Black woman to become a tenured professor in the history of the school.
As an economist, Dr. Wallace pioneered the study of sexual and racial discrimination in the workplace. She laid the groundwork through her scholarship for a precedent-setting legal decision in a federal case charging racial and sexual discrimination at the American Telephone and Telegraph Co., then the largest private employer in the United States. The suit led to a 1973 decision finding the company guilty of discriminating against women and men of color. The company agreed to pay millions in back wages and to make other pay adjustments. The verdict also brought about changes in transfer and promotion policies and recruitment criteria.
Former MDRC President Judith Gueron remembers seeing Dr. Wallace bring her expertise to her work with MDRC. Dr. Wallace sat on the Supported Work Advisory Committee, the predecessor to MDRC's Board of Directors, and Dr. Gueron was invited to one of the committee meetings as a guest in 1974. In a discussion of a baseline interview prepared by an academic institute and another research organization, Dr. Wallace objected to the use of a certain battery of psychological scales for reasons that, as Dr. Gueron noted, we would now call implicit bias. After a robust discussion, the committee agreed with Dr. Wallace.
"As a founding Board member of MDRC, Dr. Wallace brought technical expertise, a deep commitment to a more equitable labor market for women and Black Americans, and direct experience with how the rigorous application of data to a problem can change history," said MDRC President Virginia Knox. "What an inspiring life—blazing one new path after another, mentoring young people coming along in her footsteps, and building institutions as she went." 
After Dr. Wallace's retirement, the Sloan School endowed the Phyllis A. Wallace Doctoral Fellows Fund, which provides support for Black students admitted to the school's doctoral program, and the Phyllis A. Wallace Visiting Scholars Fund to provide support for Black visiting scholars at MIT.
In addition to her many awards and honors, she served on numerous national advisory committees and corporate boards. Her books included Women, Minorities, and Employment Discrimination (1977), Pathways to Work: Employment Among Black Teenage Females (1974), and Black Women in the Labor Force (1980).
Thanks to Barbara Gewirtz for research assistance.
Additional References
Bernard E. Anderson, "The Economic Status of African-American Women: Special Session in Honor of Phyllis A. Wallace," The American Economic Review 84, 2 (May 1994): 91-92
Julianne Malveaux, "Against the Wind: Reflections on the Life and Work of Phyllis Ann Wallace," The American Economic Review 84, 2 (May 1994): 93-97.
Robin Stryker, Danielle Docka-Filipek, and Pamela Wald, "Employment Discrimination Law and Industrial Psychology: Social Science as Social Authority and the Co-Production of Law and Science," Law & Social Inquiry 37, 4 (Fall 2012): 777-814.