Brief
Six-Month Results from the Accelerated Benefits Demonstration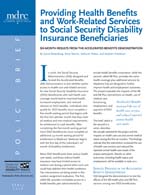 This policy brief offers early findings from a demonstration testing whether earlier access to health care and related services for new Social Security Disability Insurance (SSDI) beneficiaries who lack health care coverage would lead to improved outcomes. So far, the intervention has increased the use of health care services and reduced the reported unmet health care needs of the project participants.
Brief
Seven-Year Findings from the Jobs-Plus Demonstration

An extended analysis of Jobs-Plus, an ambitious employment program inside some of the nation's poorest inner-city public housing developments, finds substantial effects on residents' earnings a full three years after the program ended.