Milton J. Little, Jr., and Eloy Ortiz Oakley Join MDRC Board of Directors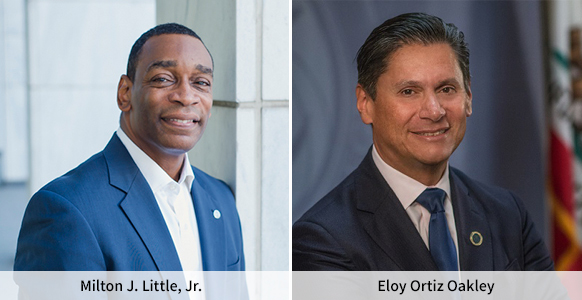 MDRC is pleased to announce that Milton J. Little, Jr., and Eloy Ortiz Oakley have joined its Board of Directors.
Milton J. Little, Jr., became the first African American President of United Way of Greater Atlanta, the largest in the national system, in 2007. Previously, he served as President of United Way of Massachusetts Bay and Merrimack Valley. Before joining United Way, he served as Chief Operating Officer and Interim President and CEO of the National Urban League, the nation's oldest and largest civil rights and social service community-based movement. From 1985 to 1993, Little served as Vice President for Field Operations at MDRC. He also had a career in corporate philanthropy at AT&T and Lucent Technologies.
"My years on staff of MDRC provided me skills, experiences, and relationships that have served me exceptionally well my entire career," said Mr. Little. "I look forward to joining its very distinguished Board and giving back to the institution that has given me so much."
Eloy Ortiz Oakley is an American educator and a leading voice on improving equity in higher education. Growing up in the Mexican American neighborhoods of South East Los Angeles, Oakley's experiences would shape his belief that quality education opportunities are a critical ingredient in achieving social and economic mobility. Since 2016, Oakley has served as Chancellor of the California Community Colleges, where he leads the nation's largest and most diverse system of higher education consisting of 116 colleges which serve more than 2.1-million students. Before becoming Chancellor, Oakley served as the Superintendent and President of the Long Beach Community College District. In 2014, Governor Jerry Brown appointed Oakley to the University of California Board of Regents.
"MDRC has a long-standing reputation for quality research and for identifying practices that support improving outcomes for low-income and first-generation students," said Chancellor Oakley. "I am proud to join the Board of MDRC and help further its mission of improving equity in higher education."
"We are delighted to have these two leaders join our Board of Directors," said MDRC Board Chair Mary Jo Bane. "In their roles as decision-makers in large public and nonprofit systems, each of them has brought a laser-like focus on removing roadblocks to opportunity for economically disadvantaged individuals, together with skillfully using research evidence to guide improvement. MDRC and our Board of Directors will benefit from their expertise and perspectives."