Brief
Helping Low-Income and First-Generation Students Make Good College Choices

Too many low-income, college-ready students are "undermatching" — enrolling in colleges for which they are academically overqualified or not going to college at all. Early results from the College Match Program in three Chicago high schools suggest that it's possible to help students navigate the complicated college application process and make more informed decisions.
Brief
A Preview of the Youth Villages Transitional Living Evaluation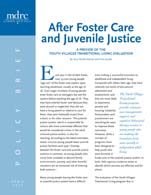 This brief covers one of the largest and most rigorous evaluations of services for youth who are aging out of the foster care and juvenile justice systems. It explains the scope of the problem, summarizes the policy context, describes the program and study sample, and offers preliminary observations from the evaluation.
Brief
An Introduction to the Performance-Based Scholarship Demonstration in California
One of six sites in MDRC's national demonstration, California's program, run in partnership with Cash for College, is testing performance-based scholarships of differing amounts and durations that supplement existing aid and that students can use at any accredited postsecondary institution.
Brief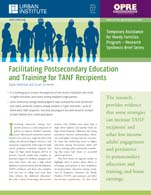 This policy brief, developed by the Urban Institute for the federal Administration for Children and Families, summarizes research on strategies that can increase TANF recipients' and other low-income adults' engagement and persistence in postsecondary education and training and boost their earnings.
Brief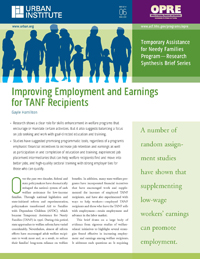 This policy brief, developed by the Urban Institute for the federal Administration for Children and Families, describes how strategies have helped welfare recipients enter employment and increase their earnings. However, more remains to be learned about how best to substantially increase their self-sufficiency and financial well-being.
Brief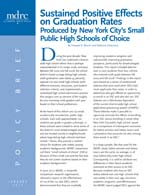 A rigorous study that takes advantage of lottery-like features in New York City's high school admissions process demonstrates that new small public high schools that are open to students of all academic backgrounds have substantial impacts on rates of graduation with Regents diplomas for every disadvantaged subgroup of students that was examined.
Brief
How Welfare and Work Policies Influence Parents' Decisions
Congressional deliberations on the future of welfare reform have reopened a debate about whether current child care assistance programs adequately support employment among low-income working parents while also fostering their children's development. Issues at the forefront of this debate are explored in this timely new policy brief.