Brief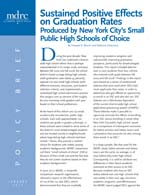 A rigorous study that takes advantage of lottery-like features in New York City's high school admissions process demonstrates that new small public high schools that are open to students of all academic backgrounds have substantial impacts on rates of graduation with Regents diplomas for every disadvantaged subgroup of students that was examined.
Brief

This issue brief, published by the National High School Center, highlights lessons from selected policies and programs designed to improve students' preparation for life after high school.
Brief
Career Academies Combine Academic Rigor and Workplace Relevance

This "snapshot," published by the National High School Center, takes a close look at implementation of the Career Academy model in one high school in Oakland, California.
Report

Eight-year findings on Career Academies — a popular high school reform that combines academics with career development opportunities — show that the programs produced sustained employment and earnings gains, particularly among young men. Career Academy participants were also more likely to be living independently with children and a spouse or a partner.
Report
Career Academies produced substantial and sustained improvements in earnings of young men after high school, without limiting opportunities to attend college.